UnixWare Product Family
UnixWare 7.1.4 is available in several ready-to deploy purpose-built editions. Each edition harnesses the ever increasing power of industry standard Intel® and AMD® server hardware (including Opteron in 32-bit mode) to deliver the best price/performance in the industry. UnixWare 7.1.4 delivers power, value, stability and reliability to your business "that just runs" so that you can focus on business operations and not get bogged down in system outages or malfunctions.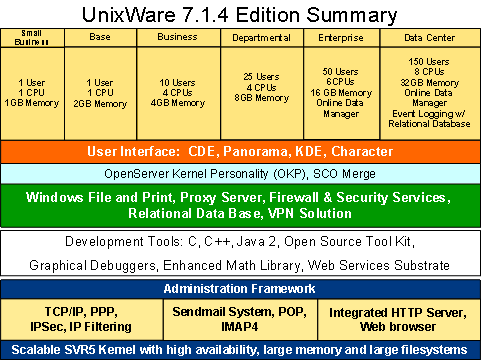 UnixWare 7.1.4 Product Family Descriptions
UnixWare 7.1 4 consists of a comprehensive family of six (6) pre-configured Editions, Optional Products and Add-on licenses.
The UnixWare 7.1.4 Small Business Edition is the new Edition for customers who need a full featured, low cost server platform for edge of network services or to run a small business.
The UnixWare 7.1.4 Base Edition provides a solid foundation for building dedicated or specialized server environments, such as telecommunications equipment and other embedded or replicated systems. The Base Edition default configuration is similar to the Small Business Edition but the cost of adding additional users to the Base Edition is more economical than adding users to the Small Business Edition. The Base Edition is the right choice for customers who have initial limited user capacity requirements which are expected to grow quickly as the business matures.
The UnixWare 7.1.4 Business Edition has been packaged with additional CPUs and users in the standard, out of the box configuration. Instead of getting 5 users and 1 CPU, the new installation comes with 10 users and 4 CPUs. Customers who upgrade from a prior version of the Business Edition will get the additional 5 users and additional CPUs enabled on their systems. The Business Edition is targeted for replicated sites or workgroups requiring reliable access to diverse applications, and the ability to expand system capability as the organization grows.
The UnixWare 7.1.4 Departmental Edition is targeted for departmental servers or replicated sites in medium or large organizations and is designed to run applications and reliably share business critical information with a wide range of client devices. The Departmental Edition default configuration has been increased from 2 CPUs and 4GB of memory to 4 CPUs and 8GB of memory, which provides additional capacity to simultaneously run multiple applications.
The UnixWare 7.1.4 Enterprise Edition provides a solid foundation for medium to high end database servers or application servers. The scalability and performance capabilities of the Enterprise Edition make it an excellent application server to support on-line transaction processing or decision support applications where response time and reliability are critical success factors. The Enterprise Edition is licensed for 50 users, 16 GB of memory and the number of CPUs has been increased from 4 to 6.
The UnixWare 7.1.4 Data Center Edition is unmatched in its ability to deliver the total performance and capabilities of proprietary, high cost, UNIX systems but because it runs on cost efficient Intel and AMD processor-based servers, it is a more affordable and cost effective solution. The Data Center Edition is built to meet the performance and 24 x 7 x 365 availability demands of business-critical application environments. The On-Line Data Management feature provides real-time management of data on redundant disks and file systems. It ensures that the information critical to your business is dependable, accessible and accurate. The Reliant®HA Clustering optional add-on product takes this already high availability and scalability to a whole new level. With support for multiple levels of redundancy and support for servers with huge disk and memory capacity, the Data Center Edition brings data center power with significant cost savings over equivalent proprietary RISC based UNIX server offerings. The Data Center Edition is licensed for 8 CPUs, 150 users, 32 GB of memory and RAID support with the Online Data Manager, and is scalable from there.
UnixWare, used under an exclusive license, and UNIX are registered trademarks of The Open Group in the United States and other countries.
---