Reliant®HA Release 1.1.4
ReliantHA for UnixWare® increases the overall availability of applications and critical data by connecting multiple servers together as nodes within a single high-availability fail-over cluster.
---
---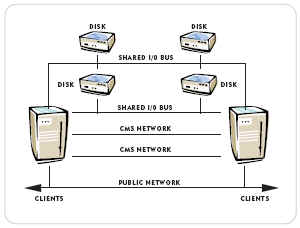 Applications do not need to be aware of the operation of the cluster, and all nodes within the cluster may be used simultaneously for processing.
ReliantHA extends the high performance, Reliability, Availability and Scalability (RAS) characteristics of all the UnixWare server operating system editions to provide continuous monitoring and fault detection of applications, resources, and entire nodes. In the event of a failure, automated recovery scripts are initiated to enable rapid or transparent restoration of services, depending on the application. Recovery actions include the unattended restart of resources, switching to alternative data paths, or migrating services to other systems within the cluster. Once a failed node has been replaced or repaired it may be returned to service in the active cluster. A graphical Configuration Manager provides a single point of control for all ReliantHA cluster services.
ReliantHA is ideal for increasing the availability of business critical applications such as transaction processing, database, email, Web, file and print services.
FEATURES
High-availability clusters of 2-to-4 nodes, with all nodes simultaneously active
Automated fault detection and recovery
Supports standard Intel-based enterprise servers with off-the-shelf RAID and networking solutions
Includes tools to create custom fail-over configurations with sample detectors and scripts
Graphical installation and management
Runs on UnixWare 7.1.4, the leading price/performance server operating environment
Also runs on prior versions of UnixWare from UnixWare 7.1.3 through UnixWare 7.1.1
Supports fail-over of both UNIX and Linux applications when running on UnixWare
High availability for your critical UNIX business applications.
Reliant®HA is a clustering solution for any size business requiring high levels of application and data availability. Businesses today are increasingly dependent on large servers to support their information processing needs, and any interruption in these services can be enormously expensive.

---