OpenServer™ Release 5.0.7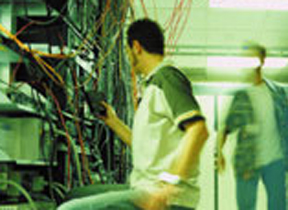 Release 5.0.7 packs in all the functionality your business needs today and in the future. It's the kind of advantage you'd expect from Xinuos, the supplier of the most popular UNIX® operating system for the Intel® platform — in the world.
What's New In OpenServer 5.0.7
New Hardware Support
The USB infrastructure featured in past versions of OpenServer has been replaced by a robust USB 2.0 compliant subsystem, that includes the following:
USB 2.0 support for EHCI Host Controllers
USB 1.1 support for OHCI and UHCI Host Controllers
Bootable USB CD-ROM support
Class Drivers, including Keyboards, Pointing Devices, CD-ROMs, Floppy, and Mass Storage Devices
LS-120 and LS-240 disk drives
Ultra Direct Memory Access (UDMA) 100/133 support
Writeable EIDE CD-RW support from Microlite, Corp.
Updated PC-Card and new Card-Bus support
PCI Serial and Parallel card support for legacy-free platforms
LS-120 and LS-240 drive support
New and enhanced Graphic, Network, and HBA device drivers
Updated and integrated Uniform Driver Interface (UDI)
New Processor and Chip Set Support
Intel® Pentium™ 4
Intel Xeon™
AMD Athlon™ XP
AMD Athlon™ MP
New Integration Of Open Source Tools
Now you can find support for the latest Open Source Tools in OpenServer, giving you unprecedented portability and flexibility.
New Java JDK 1.3.1
Java runtime now installed in the base product
Graphics, Web, and X-11 libraries (gwxlibs), a collection of libraries that allow for easy porting of Open Source software to OpenServer
New Network Services
Samba, Squid, OpenSSL (Secure Sockets Layer), and OpenSSH (Secure Shell)
Updated Network features
BIND, FTP, IP Filter
Apache has been updated and integrated with PHP, XML, ASP, and mod_perl support
DocView, the new online documentation system for all Xinuos operating systems
Updated portions of libc from UnixWare® 7.1.3
New GNU tools for developers, such as the GNU Compiler Collection (GCC), the GNU debugger, and other related tools such as GNU diff, wget, and CVS.
Mozilla Web browser, in addition to the traditional Netscape Communicator™ browser
Lynx for character-based browsing
New UnixWare and OpenServer Development Kit (UDK) 7.1.3
New Media Kits
In addition to the standard media kit, a new compact media kit is now available. This kit contains 1.44Mb boot floppies and CD-ROM media only, which provides all of the software necessary to install any component of OpenServer Release 5.0.7, including evaluation and demonstration versions of the product.
New License Packs
Available for the Enterprise, Host, and Desktop versions, giving customers the most cost-effective solutions for their computing needs. Version license keys and upgrade and trade-in licenses for OpenServer Release 5.0.7 are new. User bands and CPU licensing remain consistent with OpenServer Release 5.0.6.
Learn More about OpenServer 5.0.7 >
---