SCOoffice Server 4.2 combines security and reliability with a friendly, full-featured Internet e-mail and collaboration solution. Designed with excellent security and collaboration features, SCOoffice Server prevents e-mail viruses, filters out junk e-mail, schedules group meetings, shares address books, and manages group tasks.
New Features in Version 4.2
Support for OpenServer 6.0 and UnixWare 7.1.4
Wireless Application Protocol email
Jabber Instant Messaging
Updated Outlook connector
Out of Office message improvements
Configurable log rotation
Active Directory server synchronization
Support for migrating Contact and Calendar entries from MS Exchange
Internet E-mail
SCOoffice Server is a reliable, full-featured Internet e-mail solution. SCOoffice Server not only lets you control e-mail, but it also lets you control those who may send and receive Internet e-mail. In addition, your traveling or offsite workforce may send and receive e-mail securely from anywhere in the world.
Viruses, SPAM, and Security
SCOoffice Server stops e-mail viruses, filters out junk e-mail, and secures remote access. Because SCOoffice includes server-side antivirus protection, it stops viruses before they reach desktop systems.
With the skyrocketing cost of receiving, storing, and processing junk e-mail, SPAM blocking is a must. The built-in SCOoffice Server SPAM filters make blocking junk e-mail effortless.
If you have an offsite or a traveling workforce, then secure access is essential. SCOoffice Server lets your offsite workforce securely collaborate and use e-mail from anywhere in the world.
Real-time Collaboration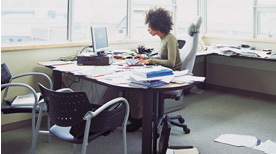 SCOoffice delivers real-time collaboration for scheduling group meetings, sharing contact lists, and managing group tasks. Instead of calling people to find available meeting times, simply select those to attend and schedule the meeting immediately.
If your workforce needs to schedule resources and equipment such as conference rooms and projectors, then that's no problem. SCOoffice Server eliminates the need to make a dozen phone calls to schedule a single meeting.
The built-in collaboration software enables shared contact lists, folders, journals, notes, and group task lists. The SCOoffice Server solution helps any office collaborate and work more efficiently.
Microsoft Outlook, Web Mail, and E-mail Readers
SCOoffice Server integrates with Microsoft® Outlook® and industry-standard Web browsers and e-mail readers. With a single click of the mouse, Outlook users are configured to use the advanced SCOoffice Server e-mail and collaboration features.
SCOoffice Server also integrates with industry-standard Web browsers such as Internet Explorer, Netscape®, and MozillaTM. From Web browsers, users access the WebClient for sending and receiving e-mail and for collaborating with Outlook and other WebClient users.
In addition, SCOoffice Server also integrates with other industry-standard e-mail readers such as Netscape, Mozilla, Outlook Express, EudoraTM, and others.
Friendly Interface
SCOoffice Server works great for businesses with non-technical administrators like business owners and administrative assistants. The simple-to-use interface lets you easily control users, aliases, mailing lists, junk e-mail, passwords, and much more. Simple SCOoffice Server dialogs streamline even complex tasks in a quick and efficient manner.
Licensing
Xinuos requires an e-mail user license for each user of SCOoffice Server.  The base license includes 5 e-mail user licenses and is required before user bump packs can be applied.  A low-cost media kit is available separately.  The media kit includes a 60-day evaluation license.  Each user can have an unlimited number of aliases.  There is no restriction for concurrent use.
System Requirements
Operating System:
OpenServer 6.0 with MP2 or higher or UnixWare 7.1.4 with MP3 or higher
RAM:
Minimum 512MB system + 1MB per active connection
Additional 512MB to support SPAM and Virus Scanning, if configured.
Disk Space:
Minimum 600MB system + appropriate mailbox allocation per user (in addition to OS requirements) and space for backup images.
Network:
TCP/IP Networking with DNS name resolution configured.
---