<![if !vml]> <![endif]>
SCO Update Service
A Whitepaper
The SCO Group, Inc. Legal Notices
© Copyright 2003 the SCO Group, Inc.  All Rights Reserved. 
SCO, the SCO logos, SCO OpenLearning, SCO and associated logo and SCO Open Server are trademarks or registered trademarks of The SCO Group, Inc. in the U.S.A. and other countries.  UNIX and UnixWare, used under an exclusive license, are registered trademarks of The Open Group in the United States and other countries.  All other brand and product names are trademarks or registered marks of the respective owners.
The SCO Group (NASDAQ: SCOX) helps millions of customers in more than 82 countries to grow their businesses with its UNIX operating system and business solutions. Headquartered in Lindon, Utah, SCO has a worldwide network of more than 16,000 resellers and 8,000 developers. SCO Global Services provides reliable localized support and services to all partners and customers. For more information on SCO products and services, visit http://www.sco.com.
Warranties and Disclaimers
The SCO Group, Inc. intends for the information and data contained above to be accurate and reliable, however, since the information and data have been compiled by SCO from a variety of sources, it is provided "AS IS." SCO EXPRESSLY DISCLAIMS ALL WARRANTIES AND/OR CONDITIONS EXPRESS OR IMPLIED, AS TO ANY MATTER WHATSOEVER RELATING TO OR REFERENCED ABOVE, INCLUDING, BUT NOT LIMITED TO, THE IMPLIED WARRANTIES AND/OR CONDITIONS OF MERCHANTABILITY OR SATISFACTORY QUALITY AND FITNESS FOR A PARTICULAR PURPOSE AND NON INFRINGEMENT
Overview
Technology advances are occurring at an ever-increasing pace.  IT departments are faced with the challenge of leveraging technology improvements to stay ahead of the competition.  Most technology suppliers deliver new features by releasing major new versions of software every 18 – 24 months.  This "big bang" approach to software releases creates an artificial lag time between when technology is available and when it is actually deployable.  Businesses that rely on leading edge technology to remain competitive simply can't afford to wait.
The traditional "major release" method of making software available is also disruptive.  Whether businesses use in house IT services or rely on a third party to maintain their systems, the periods of downtime associated with installing and testing major system changes are unacceptable.  Now, SCO has a better way. 
SCO Update Service simplifies and streamlines the process of deploying new technology and keeping deployed systems up to date. This innovative service provides electronic delivery of operating system changes, gives customers control of the upgrade process and helps customers accurately budget for the cost of system upgrades.  
This Update Service is available for UnixWare 7.1.4 and for OpenServer 5.0.7 and for later releases of those platforms.   It can be purchased bundled with the operating system or separately at any time up to the announcement of the next product release, (i.e., Elara and Legend).
For customers who only need maintenance, (i.e., security patches and high severity bug fixes) SCO bundles product maintenance with every product at no additional cost. 
SCO Update Service Description:

 
SCO Update Service has two options:
<![if !supportLists]>· <![endif]>Upgrade Service 
<![if !supportLists]>· <![endif]>Basic Maintenance
Upgrade Service Option
This option is for customers who want early access to new operating system features.   This optional service is available for UnixWare 7.1.4, OpenServer 5.0.7 and later releases of those platforms.  It is fee-based and requires an additional license for each system covered by the upgrade option. 
Customers of this service option are entitled to receive upgrade packs for the systems covered. The packs are cumulative with the prior pack until a new version of the product is released.  The packs contain both elements of the program – an Upgrade Service and Basic Maintenance including, new features, bug fixes and patches.  SCO does not require that each pack be applied to the system as soon as it has become available.   Upgrades can be scheduled as convenient, or as necessary.   The only exception is that if a bug is reported that SCO believes was fixed in an existing upgrade pack, SCO will require that the pack be applied to determine if the problem still exists.
The Upgrade service license for UnixWare or OpenServer entitles the customer to receive all upgrade packs up to and including the next release of the designated platform.   In order to continue to receive upgrade packs beyond the next release, a new upgrade service license is required.
Basic Maintenance
This option is for customers who only need access to bug fixes and security patches on an ongoing basis.   The basic maintenance service will be made available on designated releases, and is included in the product license fee.  It is very similar to the maintenance currently available for all SCO platforms.  The major distinction is that beginning with UnixWare 7.1.4 and OpenServer 5.0.7, accounts that register at www.sco.com/registration receive electronic notification of upgrade packs and are entitled to view and download the maintenance packs.
The maintenance packs will include fixes to security alerts, high severity bugs (as determined by SCO) and new and updated drivers    
Basic Maintenance Customers can upgrade to the next release by purchasing a product upgrade license.  The upgrade process is similar to what currently exists.  Basic maintenance customers receive a single delivery that contains all of the feature upgrades that were delivered to the Upgrade Service accounts since the last release.   Once the basic maintenance account has upgraded, they can choose whether or not to continue with basic maintenance only or switch to the Upgrade Option. 
Figure 1 details the differences between Upgrade Option and Basic Maintenance.
<![if !vml]>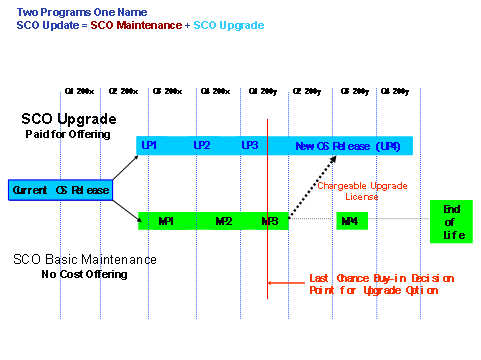 <![endif]><![if !vml]> <![endif]>

Pricing
The prices for the Upgrade service, bundled or unbundled for UnixWare 7.1.4 are available from your local reseller.  You can find the reseller closest to you by going to www.sco.com/partners  
Registration
The organization responsible for maintaining the systems and applying upgrades should register as the designated contact at the SCO registration website. www.sco.com/registration<![if !supportNestedAnchors]><![endif]>   Generally, this is a reseller, or for large accounts, the in-house IT organization.  The registration process requires the administrator to specify whether they prefer to download upgrade packs from the SCO ftp site, or they prefer that SCO mail a CD.
SwiM and SES customers
The upgrade service option replaces the SWiM program and is an enhancement of the SES program.  There is an orderly migration path for current subscribers.  Customers of either of these programs should contact their SCO account manager.
Summary
SCO's innovated Update Service is a unique program that gives SCO customers the flexibility to determine the rate of system upgrades that best meets their needs. Resellers can benefit because it provides a convenient notification of when their customers are due for an upgrade or maintenance fix.

  

Resellers can enhance their revenue by providing this service to their accounts bundled with the resellers own value added services.

 

By providing electronic notification of upgrade packs and maintenance packs, the schedule of system updates can be controlled.
The Upgrade Option gives customers the ability accurately budget the cost of system upgrades.

 

If the Upgrade Option is purchased bundled with the product license, the cost of the upgrade is guaranteed.

  

Upgrade Option customers also get earlier access to technology than is currently available in the traditional 18 month cycle of product releases.
Perhaps most importantly, resellers and customers alike know that SCO stands behind their products, guaranteeing that products will be maintained for at least 2 years.